Daler Rowney Mix Simply Natural Hair Brush 10 Pcs Set
Daler Rowney Mix Simply Natural Hair Brush Set:
Proficient brushes from Daler Rowney.
Set contains:
5 engineered round brushes
5 watercolor brushes (oval wash-3/4, level wash-1/2, 1/4 and 2, 4 round).
Brushes length from 17 cm to 21 cm.
Daler-Rowney Simply Watercolor Brushes are produced using common hair in an assortment of shapes and sizes to fit practically any need.
Characteristic hair.
Ideal for watercolor.
Suggested for amateurs and specialists.
Basically Watercolor Brushes are accessible in 7 arrangements of short handle brushes made out of an assortment of hair from manufactured to common poney or sable. Among these sets is the Simply Watercolor Brush Zip Case which accompanies a choice of ten quality common hair brushes that are ideal for working with watercolors. All the watercolor brushes are contained inside a convenient convey case that keeps brushes sorted out and clean.
Picture: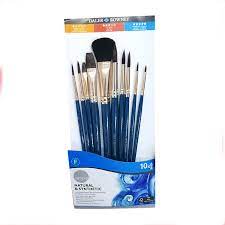 We delivered all accessories at your doorstep in Pakistan & World Wide.
Include Lahore, Karachi, Islamabad, Sindh etc.
Visit this site: Thestationers.pk
customers are viewing this product