Daler Rowney Aquafine Watercolor Inks Set of 6 Pcs
Daler Rowney Aquafine Watercolor Inks Set:
Aquafine Watercolour Ink is a pigmented, water soluble ink range with high degree of lightfastness. It can be used straight out of the dropper, or diluted to archieve the most subtle of tones. Because the inks are formulated with genuine fine art pigments, colours will remain bright and vivid over time compared to dye-based inks which will quickly fade. Aquafine inks can be applied using traditional brushes, but also work well through airbrushes, technical pens, and paint markers making them ideal for producing technical illustrations and finely worked drwaings. Suitable for use of artists, illustators, graphic designers, calligraphers, decorative artists and hobbyists.

Made In England
Picture: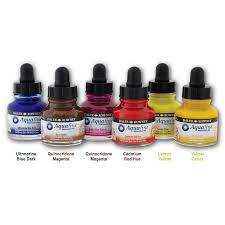 We delivered all accessories at your doorstep in Pakistan & World Wide.
Include Lahore, Karachi, Islamabad, Sindh etc.
Visit this site: Thestationers.pk
customers are viewing this product